Welcome to Precision Devices, Inc.
Precision Devices, Inc. products and services, include Surfometers, exclusive Ball-Ring Arbors and Chucks, Height Test blocks, Special Gages and Profilometer® repair, are used by major industries throughout the U.S.
Many of the PDI products have been developed to fill special customer requirements. PDI special designs have given industry much needed ways of checking and inspecting parts that had not been offered before. PDI responds quickly to customer needs and will work with you to design and develop quality control and inspection products to meet your specific requirements.
PDI has the facilities, high tech equipment and highly trained personnel to work to the precise standards required in the quality control field.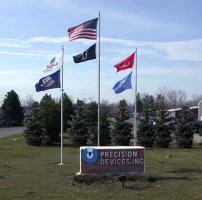 Founded in 1971 by engineers Tom Preston and Joe Kormos following a plant layoff, PDI today has over 21,000 square feet of floor space and five acres of land to provide room for expansion.
We are located close to a major airport, rail and interstate highways and have all pick-up services for emergency deliveries. A demonstration and conference room is available to you to inspect PDI products in action and to provide sample checks of your parts.






PRECISION DEVICES, INC.
Over four decades of Unrivaled
Customer Service
PDI Quality Statement: Pride In Workmanship And Service
Always at the forefront of technological development in surface measurement systems, Precision Devices, Inc. introduces the completely new modular Series 800 Surfometer.
All 800 series models utilize the same basic hardware, with model difference determined by the software installed. Starting with the basic Multiple Parameter system (12 roughness parameters). The units may be upgraded for future needs by simply adding parameter modules.
Simplicity is also inherent in the operation of the instrument, with prompts to guide the operator as the system gathers data, calculates the results and automatically displays the selected parameters, cutoff and system settings. The amplifier is equipped with a 7-inch diagonally measured LCD display. The display is bright and has a wide viewing angle, making it easy to read from any angle.
PDA-801 - Multiple Parameter

Ra, Rq, Rt, Rmax, Rp, Rpm, R3z, Pc, Rz, Rz(DIN), Rz(ISO), Rv, t
p
%
PDA-801-K Includes the Rk Filter

All the above roughness parameters plus Rk, Rpk, Rvk, Mr1, Mr2, Rpk*,
Rvk*, Vo
The Series 800 Surfometer can equipped with a skid referenced, (pictured left), skidless or as a rotary piloter system.

For more information on:

MicroAnalyzer 2000 profiling System
Indi-Ron 100 & Indi-Ron-GT 50
Dimensional Gaging
Sweep Gages
Hydraulic Arbors
Ball Arbors & Chucks

Visit our website at www.predev.com or call 734.439.2462
Above Our PDA-801 Series Skid Referenced Surfometer System
Precision Devices, Inc. • 606 County Street, Milan, MI 48160
Toll Free 734.439.2462 • Web:
www.predev.com